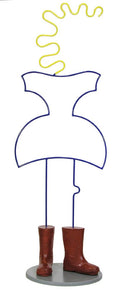 Lucy is a wireframe mannequin designed by Karen Henry of Bootkidz Ltd, based in London, England.
The mannequin is available for purchase or for hiring from Bootkidz Ltd on this webpage.
Lucy can be used as a window display or prop.
For ordering for UK or Europe see https://www.bootkidz.co.uk/products/lucy
For payment options see below.